Geese Removal, Repellents, and Habitat Modification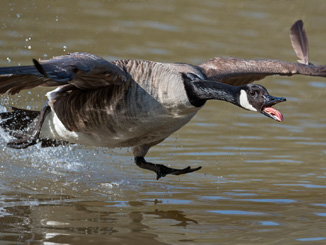 In Addition to Our Goose Control Dogs, We Use a Combination of Proven Goose Control Techniques to Ensure the Best Results for Your Property.
One of the most effective methods is our specialized eco-friendly turf treatment, FlightControl Plus, which will prevent geese from foraging and will persuade them to go elsewhere to find a meal.
---
How Does FlightControl Plus Work?
Geese feed on treated grass and experience a harmless, but effective intestinal reaction.
Geese can also see the compound in the ultraviolet spectrum of light (which people cannot see).
Geese become conditioned to avoid treated areas and find new feeding sites away from your treated turf. The visual warning, along with the mild intestinal reaction, equals a treat with a consequence.
Don't worry, Geese will not be harmed or die as a result of eating FlightControl Plus!
How Do the Geese Respond?
Geese will sample the area and may respond be shaking their heads, drinking water, rubbing their necks, and pecking their bellies.
As the geese continue to sample, the conditioning process begins.
The geese may continue to feed several times, drinking in between, while the conditioning takes hold.
In a day or two, the geese will have no choice but to find an alternative food source.
---
Stalk and Awe Geese Management Offers Goose Nest Removal Services as a Means to Stabilize Canada Goose Populations for The Greater Cincinnati, Dayton, And Columbus Areas.
When done properly, goose nest removal and egg depredation, also referred to as egg addling, oiling or shaking, is recognized by PETA and HSUS as a humane and effective method to help lower populations over a period of time. Programs like Geesepeace have been formed in areas with severe population issues. Egg depredation is used in conjunction with other abatement programs, such as border collies and/or GooseJuice applications. Geese return yearly to nest where they were hatched. We will assist you in obtaining the necessary goose damage permits from the Ohio Division of Wildlife.
What to Expect with a Depredation Program
After the first year of egg depredation, your property should notice a significant reduction in the number of goslings. You will also notice a decrease in the numbers of adult geese after the nesting season, because there will be fewer goslings in the area to protect.
The greatest reduction in the geese population will occur after three years. At this time the juvenile geese (under three years) that were born on your property would have realized that your property is no longer safe to nest or molt. Even if more mature geese continue to try and nest on your property, they will most likely find a safer location to molt. In some situations, egg depredation is no longer necessary for the implementation of a Border Collie abatement program.
---
The most preferred habitat for Canada geese are large, unobstructed areas of short, well-watered grass close to open water. These features that attract geese also make urban properties such as: golf courses, business parks, apartment complexes, and parks aesthetically pleasing to clients, residents, and employees. The basic principles of habitat modification include: eliminating, modifying, or reducing access to areas that readily attract geese.
Habitat modification alone cannot eliminate a properties Canada goose population, especially if a flock has established residence by nesting and molting in the area. By combining abatement procedures and habitat modification, the goose population is more likely to decrease.
---
Due to the fact that Canada geese have lost their fear of humans, they tend to nest in areas located next to walk ways or entrances to buildings and businesses. Geese can become increasingly territorial when establishing a nest or incubating eggs. It is not uncommon to witness customers or employees being attacked when nests are located in high foot traffic areas.
Finding a solution for an aggressive Canada goose is difficult because The Federal Migratory Bird Act protects Canada geese, nests, and young.
Under this act it is illegal to alter nests, capture, or physically harm geese without a federal or state permit. We are licensed by the Ohio Division of Wildlife and specialize in permanent goose removal solutions.
---
All of Our Management Programs Include Daily Walkway and Entryway Dropping Removal
One of the biggest complaints we hear in regards to Canada geese are their droppings. A single goose can create up to 2.5 pounds of droppings per day! Not only is the feces unsightly, but they can carry parasites like Giardia, Cryptosporidium, Coliform, and Campylobacter. These parasites can be transmitted to adults, children, and pets. Another unsightly side effect of goose droppings is the possible stains and odor that occur in entry ways and carpets. That's why all of our management programs include a daily walk and entry way clearing.
---
There are many aspects of geese management to consider when trying to alleviate your nuisance goose conflicts. Our Certified Goose Management Professionals are trained in all aspects of geese management. Contact us today to schedule a free site inspection where we can determine the best solution for your property. We service Dayton, Cincinnati, Dublin, West Chester, Centerville, and the surrounding Ohio Valley region.