Goose Control Dogs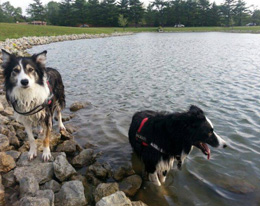 Stalk and Awe Geese Management Offers Humane Geese Management Services in the Greater Dayton, Cincinnati, and Columbus Areas with Highly Trained Goose Control Dogs.
---
How Does It Work?
The use of properly trained goose control dogs has quickly become standard for today's geese management professionals. Goose abatement or goose removal by the means of border collies is accomplished by frequent visits to your property at various times of the day or night. By visiting at various times, the geese will assume that there are multiple predators and will be forced to find a different and safer property to nest and eat.
We have chosen to hone our goose control dog's skills and ensure control by consistently training on Indian Runner ducks. This helps reinforce patience and confidence in all of our dogs. Another benefit of our goose control dogs being trained on ducks is that they can distinguish between the two species; geese and ducks. This means that if your property prefers to be duck friendly, we can maintain the duck population while alleviating the nuisance Canada Goose population.
---
Why Do We Use Border Collies?
For hundreds of years, border collies have worked alongside ranchers and shepherds in the relocation and protection of livestock. Through years of selective breeding, the border collie has developed two very distinctive traits; the stalk and the eye. Both are predatory traits that are shared with their ancestor, the wolf.
The stalk is a movement that resembles a predatory approach to desired prey. The eye is a deep stare so intense that it can encourage movement from extended distances. These traits, combined with a tremendous work ethic, are what help the border collie excel as effective goose control dogs.
---
A Little About Our Dogs
All of our dogs are highly trained and dedicated to their job. In their training, we have created calm and patient working dogs. They possess the confidence and self-control needed to calmly and safely work the Canada Geese. This ensures that we can safely work geese even if they are injured, nesting, molting, or have goslings.
Even though they are working dogs, they are also accomplished athletes and beloved members of the family. They have all spent countless hours competing in other dog-related sports which have made them all well socialized and friendly.
You may have even seen some of them at special events throughout the Greater Dayton, Cincinnati and Columbus areas from time to time. We have performed at events like The Dayton Dragons home games, The Midwest Outdoor experience, and many other events in the area.
Meet the Stalk and Awe Team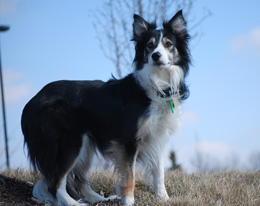 Alex - Team Stalk
Alex is one our go-to dogs. Alex is originally from Scotland and his work ethic is true to the original lines of his breed. He has a very good eye and a great stalk. Alex excels in highly stressful situations where most other dogs would shutdown or lose their confidence. He is also an excellent water dog. Alex works alongside Ratchet. These two compliment each other nicely with Ratchet working the banks of the pond while Alex works in the water.
---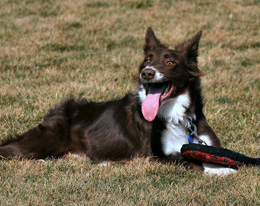 Ratchet - Team Stalk
Ratchet is from Minnesota. He is one of our younger dogs, but has shown great patience and instinct from the start. These qualities make him excel when a slow stalk is necessary. Ratchet's "eye" and overall intensity is very effective on geese from long distances, making him a very effective bank dog working alongside Alex.
---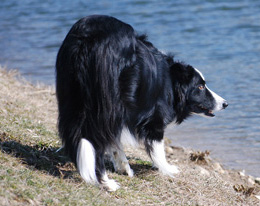 Zeek - Team Awe
Zeek is from a working cattle ranch in Texas. He has an excellent eye. Zeek can move geese from far distances due to his intense stare and stalk. He also possesses the confidence to not fold under pressure. Zeek excels as an open area stalk dog or a bank dog. He works alongside with his teammate Zephyr.
---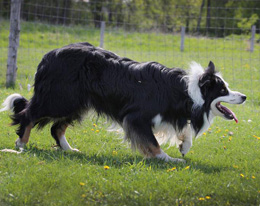 Gruve - Nursery
Gruve was imported from Canada and comes from excellent working lines. Although Gruve is still learning the ropes with his new job, he is showing great potential. We will update his status as he grows.
---
There are many aspects of geese management to consider when trying to alleviate your nuisance goose conflicts. Our Certified Geese Management Professionals are trained in all aspects of geese management. Contact us today to schedule a free site inspection where we can determine the best solution for your property. We service Dayton, Cincinnati, Dublin, West Chester, Centerville, and the surrounding Ohio Valley region.